When in a working environment, whether obedience, field, tracking, or agility, she is a focused performer whose style and enthusiasm have gained her many admirers.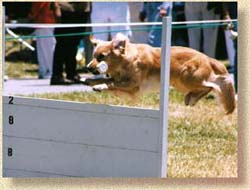 Height at withers is 20 1/2 inches; weight is about 50 pounds; light-moderate bone and good musculature.
Compact build with short back and matching leg length; tail set is just slightly high; she could use more angulation but angles are very balanced front and back; topline is okay but not exceptional; front is good though slightly wide; she could use a little more length in both the neck and upper arm; rear is great; feet are small and tight. Overall picture is very pleasing with no major faults.
Head is beautiful, with excellent proportions and pigmentation. Her ears are correct size and shape. She has a lovely stop and her muzzle is just the right length and width (at least for my tastes!). Cricket gets many comments on what a beautiful head and face she has.
Coat is light gold with bright white feathering, shorter length but dense with bushy skirts when she's in coat. (She does get quite bald when she loses her coat.) Her tail is always bushy, even when she's out of coat.
Dentition is complete with a good scissors bite.
Cricket is a charming little character who likes to be the center of attention. She's cute and she knows it!
Energy level is best described as drive on demand. At home she is an easy-going house dog who likes to be wherever Mom is, content to lay quietly but ready for action as soon as it's offered. When in a working environment, whether obedience, field, tracking, or agility, she is a focused performer whose style and enthusiasm have gained her many admirers.
Personality quirks: Cricket is a cuddler who loves to be petted and actually likes being groomed. Her favorite games are playing tug-o-war and keep-away (she loves to tease the other dogs), and of course she loves retrieve games. As a tiny puppy she was very self-sufficient, and she's still quite good at entertaining herself when the need arises. However, she has a very competitive nature and if there's action going on she wants ALL the toys, ALL the treats, and ALL the attention. We have to be careful, though, not to leave her unattended for too long with anything soft and stuffed; while she's often content to just hold such things for long periods of time, she eventually gives in to the temptation to remove the stuffing. She did this so much as a puppy that we gave her the nickname of Mothra!
Trainability: Cricket's competitive nature, strong prey drive, and love for food and toys make her very easy to motivate and lots of fun to train. She has a more complex personality than her sister Pepper - she is definitely a "thinker" and as a puppy had a stubborn streak that showed up if she thought I was being unfair. I also noticed when she was a puppy that Cricket needed to learn things at her own pace; if I tried to push her to learn something before she was ready she would put up quite a fight, whereas once she was able to understand she would learn easily and with enthusiasm. During training she is focused and willing to work hard as long as I show her what's in it for her (she is, after all, the queen!). Fortunately that's not hard to do. Also, she's very honest and she takes corrections well as long as she understands why she's being corrected. Cricket really wants to be the "chosen" dog and tries hard to outshine everyone else - a trait I greatly appreciate in a competition dog! Her analytical nature has made me a more thoughtful trainer, but it also makes her an easy learner for advanced concept work, which has come in handy in all our areas of endeavor. This girl is a phenomenal partner in all we do together.
Accomplishments
(in chronological order):
Tracking Dog (TD) certification and title both on first attempt before her first birthday
Junior Hunter (JH) in 4 out of 6 attempts at 2 years old while also doing advanced tracking and competitive obedience
Working Certificate (WC) earned in between CD legs
Companion Dog (CD) title with a Dog World Award (3 legs in 3 attempts with all scores 195 or better), 5 all-breed High In Trials and 1 tie for HIT
Companion Dog Excellent (CDX) in 3 out of 4 attempts with High in Trials on 2 of her 3 legs
Tracking Dog Excellent (TDX)—ran in 11 minutes!
Won 1st Place Open Division at the 1998 Pup-Peroni (formerly Gaines) Western Regional Obedience Championships
Winner of the Jack Godsil Memorial Award for achieving a perfect score at the 1998 Pup-Peroni Western Regional
Utility Dog (UD) earned in 2 consecutive weekends
Obtained GRCA Obedience Hall of Fame status upon completing her UD, having already earned 12 HITs (5 are required)
Completed Novice Agility at the GRCA 1998 National Specialty by winning her class and going High in Agility Trial; title earned in 3 of 3 tries with placements on all legs.
Won BOTH Agility High in Trial and Obedience High in Trial at the 1998 GRCA National Specialty! Also won High Scoring Tracking, High Scoring Hunting, High Scoring Agility, CH Indian Knolls Colonel UD Perpetual Trophy (for HIT) and Mud Creek Flare UD Perpetual Trophy (for highest scoring dog breeder/owner handled). She was expertly coached by her proud folks-Dad O'Reilly took High Scoring Champion of Record and Mom Lindy was High Scoring Dog in the Veteran Obedience Classes! (NOTE: Cricket remains the only Golden to ever earn dual HIT's in both Obedience and Agility at a GRCA National Specialty.)
In addition to finishing her NA, Cricket also earned Novice Agility Jumper (NAJ) and Open Agility (OA) with placements after only 3 months of agility classes while concurrently being campaigned in advanced obedience.
Obedience Trial Championship (OTCH) completed in 12 shows .
Utility Dog Excellent (UDX) completed in 14 shows.
Awarded NORCAL GRC's Top Obedience Dog for 1998.
Open Agility Jumper (OAJ) completed with first and second placements.
Delivered her singleton puppy, Dixie, on May 10, 2000.
Invited to the 2000 AKC National Obedience Invitational; unable to attend due to her maternity leave.
Cricket retired from obedience competition after back surgery following an auto accident in December of 2001. During her few short years of AKC obedience competition she earned 385 OTCH points, 37 UDX legs, 39 High In Trials, 20 High Combineds and 5 perfect 200 scores--three of them from judges who had never awarded a 200 before (Noelle Pilat, Karen Ten Eyck, and Curtis Cunningham).
CCA earned at the first ever CCA event held at the 2004 GRCA National Specialty in L.A., CA, which also qualifies Cricket for the GRCA's coveted VCX designation.
At the age of 11 Cricket took up Rally as a sometime hobby to give her something to do in her retirement After running only 3 practice Rally courses, our little Queen Mum earned her "nursing degree" (officially known as an RN title) in one weekend in June, 2005, at the Emerald Dog Obedience Club and Portland Dog Obedience Club trials. She did 4 trials in 2 days and earned 2 firsts, 1 second, and 1 third place, including 2 perfect scores of 100. For those who do not know, a perfect score in Rally is not the rarity it is in Obedience because Rally is not judged the way Obedience is, but it is still indicative of a superior performance for the sport.
Rally Advanced title earned at age 12 in one weekend, June 2-4, 2006, with all perfect scores, 2 firsts and 1 second. The second was the result of a tie for first with a much younger Border Collie who had a slightly faster course time.
Rally Excellent title completed 10/1/06 with 2 perfect scores and 1 score of 99. We are particularly proud of the fact that our dear little Queen Mum earned all three of her RE legs with first places in very large classes (36, 22, and 33 dogs respectively) that included OTCH dogs still actively competing in obedience. Throughout her Rally adventures Cricket elicited many remarks from both judges and spectators on the beauty of her performances. Always known for her smoothness, precision, and enthusiasm in obedience, she was clearly happy to have the chance to strut her stuff in the Rally ring after so many years of retirement. At the conclusion of her final RE class one of the stewards came over to compliment us and actually thanked Cricket for showing everyone how Rally could look when done"as it should be". I swear the girl understood every word because she simply beamed at him with one of her 100-watt smiles. Hail to the Queen...