Spirit is the "little red girl" from the second Pepper/Jammer litter. She reminded us so much of her grandma Lindy we just had to keep her. Being the youngest of the five dogs we had when she took up permanent residence here, poor Spirit did not have as much training time devoted to her as she deserved. Despite the meager pickings in that department she made the most of her opportunities--good thing she was a quick study and loved to do anything! Mom started Spirit's obedience training quite late (at 18 months old) when it became evident her own person (Dad) wasn't getting around to it, ahem. Her obedience work progressed nicely despite the fact that Spirit had to take a back seat to cousin Dixie in this department, only fair since Dixie was mom's "real dog" and Spirit was officially Dad's. Spirit did spend her pre-obedience down time in the worthwhile pursuits of tracking and fieldwork, both of which she showed exceptional aptitude for. She took time off in the fall of 2003 to raise her first litter of puppies, 3 girls and 3 boys sired by Comstock Steelcity Superman MH WCX ** CCA OS. After earning a CDX with flying colors - literally flying over the jumps - Spirit again took time off to raise her second litter, this time whelping 1 girl and 2 boys sired by OTCH First String's Liv'N on the Edge UDX10 NA NAJ. She finally made her Utility debut in September of 2007 - one day after she officially became a veteran on her 7th birthday. In true "Spirit style" she earned all 3 UD legs in less than 2 weeks, but then was forced back into hiatus along with the rest of the household while cousin Dixie took her turn at motherhood again.
Spirit's return to action was further delayed by a split toenail that led to the discovery of a small tumor in the nailbed that turned out to be malignant melanoma. The dreaded diagnosis resulted in immediate amputation of the toe followed by a long series of treatment attempts which, we are heartbroken to say, did not stop the spread of the disease. Despite all that, Spirit's heart and desire to work shone through it all and allowed us to continue to enjoy pursuit of a UDX while she was still eager and able. She attained her title on 10/25/08, then retired from obedience competition the next day with her usual high-flying style by earning an insurance UDX leg and High in Trial with a score of 199 from Open B. Spirit celebrated with family and friends at a large picnic party held in her honor two weeks later. She continued to share her special joy with us for several good months before it was finally time to say goodbye. Spirit's incredibly loving nature and zest for life touched all those who knew her; she will live on in our hearts always. Many thanks to everyone who supported Spirit and us with their thoughts and prayers throughout her journey. Special thanks to Suzi Beber and the Smiling Blue Skies cancer foundation for helping us to keep Spirit feeling good for such a remarkably long time. You can read more about Smiling Blue Skies here: http://www.smilingblueskies.com/.
Spirit's accomplishments include:
Certified for tracking on her first try at 6 months old
Tracking Dog title earned at 6 months old on her first attempt
Junior Hunter title earned in 4 of 5 tests, all run in a five-week period in the fall of 2002
Tracking Dog Excellent title earned on her first try on March 2, 2003, same day as her cousin, Dixie!
Whelped her first litter - 3 girls and 3 boys - on October 14, 2003, sired by Comstocks Steelcity Superman ** MH WCX, aka Steeler, owned by Kathy Eddy, DVM
CD earned in 3 straight trials in 5 days with all first places and scores of 198, 199 (tie for HIT), and 199 (HIT). Third leg was earned at the GRCA 2004 National Specialty, where Spirit's score earned her High in Trial plus High Scoring Tracking Dog and High Scoring Hunting Dog. She followed up by going HIT with a 199.5++ on her "insurance" leg. Spirit was shown a total of 10 times in Novice B and remained undefeated, earning 6 HIT's plus 2 ties for HIT, and maintained an average of 198.7
CDX earned in 3 straight trials with a Dog World Award and a HIT
Whelped her second litter - 1 girl and 2 boys - on November 7, 2006, sired by OTCH First String's Liv'N on the Edge UDX10 NA NAJ ODHF, aka Shale, owned by Kathleen Rasinowich-Platt and Joanne Gaulke
CCA and VC completed on 7/8/07
UD and VCX completed on 9/19/07 at the GRCA National Specialty in Snohomish, WA. Spirit also earned her first UDX leg on her first try that day, plus earned her first 3 OTCH points by placing 2nd in Open B. Good girl, Spirit!
Outstanding Dam status attained on 10/27/07 from her first litter
GRCA Obedience Hall of Fame status attained on 4/3/08 upon winning her 3rd High in Trial from Open B (only 2 of her 6 HIT's from Novice may be counted towards the required 5 HIT's)
Spirit retired on 10/27/08 with a total of 13 HIT's, 3 HC'S, and 11 UDX legs

---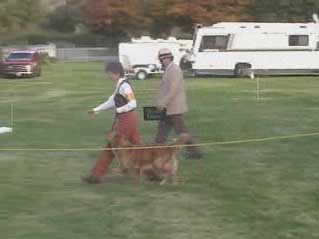 Video of one of Spirit's six High In Trials out of Novice. This one was a score of 199 in November 2004 in Paso Robles, CA.

This clip includes footage of the demo in the breed ring although the quality of the that video is not good.