Main Page | Jodi | Spirit | Dixie | Pepper | Cricket | Lindy | Coppertop Kids | News| Feedback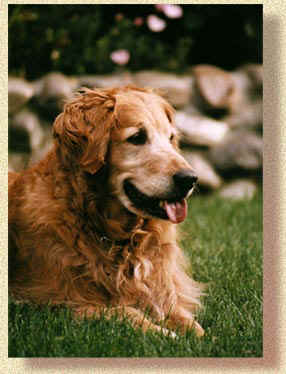 Lindy
10/20/88 - 12/3/01
OTCH MISTY MARSHES FLIGHT O'FANCY UDX TDX AX OAJ JH WCX
GRCA Odedience Hall of Fame
GRCA Outstanding Dam
---
Terry and Lindy in '93.

Lindy's Accomplishments

1990

WC on first try with very minimal training

1991

JH with 4 legs on first 4 tries
CD out of Novice B with a Dog World Award
(shown 9 times, 197 average, placed all 9 times)

1992

TD on first try after three and a half months training
CDX out of Open B with a Dog World Award and multiple High in Trials
UD out of Utility B with a Dog World Award and her first High Combined

1993

TDX on second try after two months of training (it was intensive!)
WCX three weeks after earning TDX
Earned Obedience Trial Championship with limited showing in highly competitive northern California
Entered GRCA Obedience Hall of Fame
Earned multiple High in Trials and High Combineds
Earned her first perfect score of 200

1994

Awarded Norcal GRC's Ray Ritchey Memorial Award for Most Outstanding Overall Achievements for 1993
Had her one and only litter of three exceptional puppies

1995

Earned her UDX, her second perfect 200 and multiple HITs and HCs

1996

Earned (only) 1 HC (but also gained 56 OTCh points and 18 placings)

1997

Attained GRCA Outstanding Dam status from her only three puppies before the litter turned three years old
Earned HIT and HC, plus Canadian CD with 2 HITs and a tie for HIT (tied with her daughter!)

1998

Started her agility career; obtained NA, NAJ, OA, OAJ, and AX

Lindy is a very happy-natured girl who thinks life is great fun; she enjoys doing anything, but especially if it involves any form of retrieving! Field work is her greatest love, although she has not been allowed to spend much time there due to Mom's predominant involvement in obedience and tracking. She is a very stylish runner and a powerful swimmer with an explosive water entry. She has excelled in the obedience ring for years, where her animated performances and leaping finishes have made her a favorite of judges and audiences alike. That same drive and enthusiasm have now been applied to the agility ring, where only her little white face gives away the fact that she is almost ten years old. Lindy has a loving nature, is nonaggressive towards other dogs or people, and is energetic without being hyper--she is a wonderful house dog. She is a joy to train, being both intelligent and willing to try anything (although she is too smart to ever let training become "routine"!), and this is perhaps what has allowed her to accomplish so much in so many areas, while having fun at all of it. Lindy has always been completely owner-trained and handled, and has been for a decade an incomparable companion and partner—a truly once in a lifetime kind of dog.

Agility competition in 1998 at almost 10 years of age!

Lindy has always had a stylish water entry.
Look at that smile!
This page was last updated on 05/20/00
Main Page | Spirit | Dixie | Pepper | Cricket | Lindy | Coppertop Kids | News | Breeding Plans | Feedback