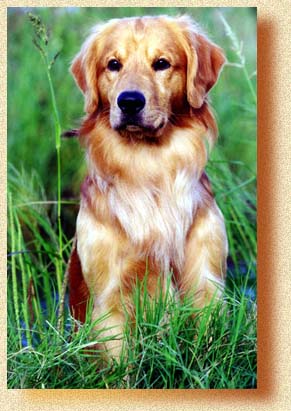 OTCH MACH9 Coppertop's Live Wire
VCD3 UDX TDX MH MXF WCX CCA VCX
GRCA Agility Hall of Fame
GRCA Outstanding Sire

"Ted"
Multi-HIT and Multi-HC

AKC Master National Qualifier - 2002, 2003
AKC Agility National Qualifier - 2002, 2003, 2004, 2005, 2006, 2007, 2008
AKC Agility National Finalist - 2003
AKC Agility Invitational Qualifier - 2006, 2007, 2008
Multi-200's, Multi-HIT's, Multi-HC's
January 3, 1999 - January 24, 2009
Frozen semen available for select breedings only; contact Pat White.
Ted lives with Pat and Gary White in Sacramento, CA, along with Ted's younger sister, Spice, Causmo the Aussie, and Angel the cat. He and Pat have been turning heads in the field and on the agility course while training for a career in obedience. Ted skipped Junior Hunter and went straight to Senior, then on to Master, finishing both titles quickly and with style. While field work is great fun for this boy, he also loves agility; despite his other endeavors--and Pat's--he flew through all levels of AKC Standard and Jumpers titles, including MX and MXJ. His drive and focus on the agility course enabled him to accumulate over 750 MACH points and 9 Double Q's in 2002, even though he and Pat were absent from the agility ring for the first 4 months of the year while earning his Master Hunter title. We believe Ted is the first Golden Retriever to qualify for both the AKC Master National and the AKC Agility National in the same year, a feat he accomplished in both 2002 and 2003. In February of 2003 Ted ventured into the obedience ring for the first time and pranced away with a score of 198.5, first place, plus a tie for High in Trial. He remained undefeated throughout his limited Novice obedience career, ending with a 199 and HIT at his last show after winning a double run-off with the Open B winner. Then it was back to agility to finish his first MACH, which he did in his typical flying style on the weekend of his Grandma Lindy's birthday--October 18, 2003.
Ted's accomplishments include:
Senior Hunter completed in 5 of 6 tests, all within a 6-week period in the fall of 2000 before his second birthday
Master Hunter completed in 5 of 6 tests before his third birthday
NA, NAJ, OA, OAJ, AX, and AXJ all earned in 2001
MX and MXJ completed in 2002, along with over 750 MACH points and 9 Double Q's
Entered GRCA's Agility Dog Hall of Fame in January of 2003 after earning his 10th Double Q
AKC Master National qualifier in 2002 and 2003
AKC Agility National qualifier in 2002 and 2003
CD completed with all first places (6/6 shows), a Dog World Award, a High in Trial and a tie for High in Trial
MACH completed 10/18/03
Finalist at AKC Agility National Championships placing 10th in the 24 inch class.
CDX completed out of Open B in 3 shows in one weekend--January of 2004
TD earned on his first try on 2/8/04
UD completed out of Utility B on 7/24/04, with a score of 198 and tie for second place
MACH2 completed 8/1/04
GRCA 2004 National Specialty held in Malibu, CA, 10/12-15/04, Ted won all four 24-inch Excellent B classes and was the HIT Agility dog both days!
CCA earned at the GRCA's first ever CCA event, held at the 2004 National, which also qualifies him for the GRCA's coveted VCX designation
TDX earned on his first try on 3/6/05, which also made him a VCD3
OTCH completed 7/10/05
MACH3 completed 9/11/05
UDX completed 10/9/05
As of 10/11/05 Ted has 4 HIT's and 7 HC's
MACH4 completed 5/29/06
MACH5 completed 12/2/06
MACH6 completed 6/23/07
MACH7 completed 10/14/07
MACH8 completed June, 2008
MACH9 completed 10/26/08